This last week I received two pretty fantastic emails delivering some great news.  I was selected to be an ambassador for two amazing groups, Girls Gone Sporty, and I'm Fit Possible.  I am so excited to be a part of each of these groups.  Both of these programs provide positive, informative, and encouraging content.  And, their ambassador programs surround you with people who think similarly.
Girls Gone Sporty provides a ton of information to help you live an active, healthy lifestyle. They are dedicated to sharing top products, trends, and ideas for advancing a fit lifestyle.  Their ambassador program brings together bloggers, finess and health profressionals, and many more.  Pulling our resources together as a group gets the word out and makes us each stronger.  Take a few minutes to check out their page and read about all the awesome ambassdors – Girls Gone Sporty.
I'm Fit Possible focuses on the importance of community.  They believe and support that we really CAN have it all!  Their philosophy: TOGETHER is Better.  Opinions COUNT.  Being SOCIAL is way cool.  And, real stories by real people MATTER.  I'm Fit Possible ambassadors are also fitness and wellness enthusiasts who share stories to motivate!  They support real, community focused initiatives that promote healthy and active lifestyles.  Check out I'm Fit Possible!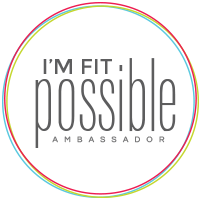 I feel so blessed to be selected to represesent each of these groups.  Being surrounded and supported by others with the same mindset and intention is so empowering.  I would never have dreamed that lacing up a pair of running shoes three years ago would take me here.